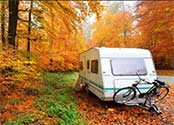 Here we are again at the end of another camping season. Most of us were lucky enough this summer to travel to other provinces when Covid restrictions were loosened/lifted. But now the geese are flying south and the leaves are slowly changing colors. Old man winter is on his way again and according to the Farmer's Almanac, the upcoming winter is shaping to be a "frosty flip-flop" with plenty of snow for most of Canada. You can read more about this here.

Unless you're lucky enough to be camping year-round, it's now time to winterize the RV. To help you with this process, we have put together a RV winterizing checklist. But if you're one of the lucky ones, check out our

Winter RVing tips

, our

Winter camping tips

as well as our

Winter camping checklist

. Since some provinces have re-instated Covid restrictions, we recommend that you keep an eye on provincial restrictions and exemptions changes if you are planning to travel. The best way to stay informed is to regularly visit this GOC website....

https://travel.gc.ca/travel-covid/travel-restrictions/provinces



For those of you interested in going to RV shows, click here to see a list of upcoming RV shows across Canada. Please note that some shows haven't yet published their 2022 dates because of the uncertainty caused by Covid-19.

If you're in the market for an RV, click here to read about the various types (classes) of RVs available on the market. You can buy a "towable" RV or you can buy a "motorized" RV. You can have slideouts, AC, bunk beds.... or hundreds of other options. You can buy a 12 footer or you can buy a 45 footer. It all depends on your needs and to help you with your buying process, we have put together an "

RV selection guide

" as well as two checklists; our "

RV shopping checklist

" and our "

Buying a used RV checklist

". Print these and bring them with you on your next shopping tip!

If you're looking for camping gear of have gear to sell, check out our new and free "

Camping Classifieds

" section.

And while you're relaxing indoors during those winter months, why not help out fellow campers and

review the campgrounds that you have visited during the summer. Everybody loves to readcampgroundreviews especially those made by real campers. We use a 5-point rating system allowing you to rate a campground based on its location, services, campsites, recreation facilities and washrooms. Please note that we recently added two new features. One allows you to add photos to your campground reviews and the other one allows you to store personal notes with your reviews in your own camping journal. "

Click here

" to read existing reviews or to rate/review a campground.

"Sticker Map"
Another new feature we just added is the "Sticker Map" which allows you to keep track on a map of the campgrounds that you have visited/reviewed in the past! Each and every campground that you have visited (and reviewed on Camping-Canada) pops up with our

icon (sticker) on a Google map. Clicking on an icon brings up additional information about that specific campground including links to existing reviews as well as any personal notes (see "campground reviews" above) that you may have stored for that campground.
Upcoming Canadian RV shows

How would you like to see your camping photos featured on our pages? Send us your very best photos as full resolution files at photos@camping-canada.com! With any photo submitted, please include your full name and a caption stating when and where the photo was taken as well as a title for the photo. Please note that photos depicting children under the age of 13 will not be posted.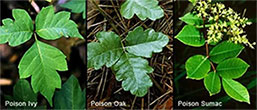 Poison ivy typically grows as a vine or shrub, and it can be found throughout much of North America. Poison ivy plants typically have leaf arrangements that are clustered in groups of three leaflets. The plant may have yellow or green flowers, and white to green-yellow berries, depending on the season. Poison oak also grows as a vine or shrub and is found in the western United States and British Columbia. It has a leaf arrangement similar to poison ivy. Poison sumac on the other hand, grows as a shrub or small tree and is only found in eastern/southeastern United States. When infected by one of these, you get a rash within 12-72 hours. Skin may become red, swollen and/or itchy. Rash usually appears bumpy, streaky and linear. Fluid may discharge from blisters but isn't contagious. Within 20-30 minutes of exposure, rinse the affected area with lots of warm water to remove the oily plant resin. You can also use soap or rubbing alcohol to help with the resin removal. The rash slowly improves and disappears after one to three weeks in most individuals. For more information about poison ivy,

click here

. If you're looking for homemade remedies for poison ivy,

click here

to read an interesting article from TipsBulletin!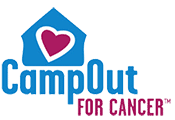 CampOut for Cancer
is an initiative created to support

Camp Trillium

which is Canada's largest year-round camping and recreational program for kids and their families living with cancer. Every year, they organize a CampOut experience where participants get to decide how and where (backyard, cottage....) they'll CampOut for Cancer. In 2017, "CampOut for Cancer" raised a grand total of of $130,000 which funded 866 camp days for 130 children living with cancer! This year, the CampOut experience will be held on Saturday, October 19, 2019. Why not set aside that date and join thousands of Canadians "camping for a great cause"! To learn more, please go to

www.CampOutforCancer.com
Parks Canada recently announced that they will double the number of its new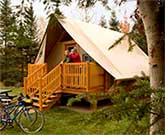 "oTENTik" camping structures in national parks and other locations across the country this year! An "oTENTik" structure is basically a crossbetween a tent and a cabin and is intended to add a degree of comfort to camping (see "Glamping" below). After rolling out a few dozen of the units in 2013, initially at La Mauricie National Park in Quebec, Parks Canada made 124 available across the country last year, mostly in national parks but also at a couple of national historic sites in B.C. This year the number of units will hit 238, said Francois Duclos, Parks Canada manager of visitor experience infrastructures and the rental cost ranges from $90-$120 a night for a unit that can accommodate six people.

Click here

for more information!
Camping in style!!
Have you ever heard of "Glamping"? No.... well, you're not alone! "Glamping", which stands for "glamorous camping",started in Europe a decade ago. No more kerosenelamp, no mor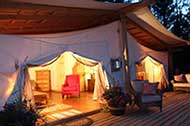 e heating a can of beans on a campfire! Hello solar lamps, bed, kitchen-range, comfy chairs.... all under a tent! Europeans refer to these places as "open air hotels". Now, it's starting to catch on in Canada! Some setup are simply large canvas tents with some furniture such as a chair and a bed while others offer more luxury. Prices range from under $100 for a single night with a cot, to around $1000 for four nights with a queen bed! At the moment, glamping is more popular in BC but it's slowly catching on in the rest of canada.

Click here

to view a map of Glamping spots in Canada.
Take our campground services survey!
Did you know that close to 85% of campers feel that campground owners charge too much for firewood and that

close to 65% of campers think that campground owners should not use coin-operated showers? These are some of the findings in our survey with more than 19,000 participants so far. To find out more,

click here

to take our survey and see all the survey results.