It's been a pretty rough winter so far for most regions of our great country so we're sure that most of you can't wait for spring to finally show up! However, in the meantime, why not take some time to share your camping experiences with other fellow campers and rate the campgrounds that you visited last year.

With our new rating system, you can now do a quick "5-point" rating and/or write a detailed review for any of our 2200+ campgrounds. Whether you're a "weekend camper" or a "seasonal camper".... your opinion counts. Over the last couple of years, we've been gettting really great comments about the ease of use and the usefulness of our rating system. It contains unbiased ratings and reviews by campers just like you! So go ahead and "start rating" by either (a) using our Campground search engine to locate a campground or (b) using our Campround reviews pages to add to existing ratings and reviews.
If you want to get in the mood for the upcoming camping season, there's nothing better than spending some time at an RV show and the 2014 shows are already underway (see "Upcoming RV shows" below). Select a show from the list below and click on the "Go" button to get more information about that show.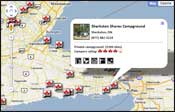 Great news! We just added a new feature that allows you to view your campground search results on Google Map™! Up to now, our campground search results were displayed as a listing of campgrounds. But now, you can also view your search results on a map which means that you can now see the actual location of a campground with respect to highways, water etc..... Furthermore, with the Google Map™ "satellite" view, you can even see a that you can "zoom" in and out off! Give it a try!


According to a recent survey by

HighBeam Research

, 78% of consumers say they trust and believe other people's recommendations for products and services - more than any other medium, including newspapers, conventional and online advertising! So to help you choose your camping destinations, we have developed an easy to use and quick "5-point" rating system for our 2000+campground listings. You can rate a campground's location, campsites,services, recreation facilities

and washrooms and if you`re in the mood for it, you can even write a full review of the campground. We currently have hundreds of ratings and reviews from campers like you so why not take some time and rate the campgrounds that you've visited recently and..... remember to come back to rate the ones you'll be visiting this summer! Whether you're a "weekend camper" or a "seasoned camper", your opinion counts and will be truly appreciated by fellow campers! To read existing reviews "

click here

". If you want to rate a specific campground, use our

Campground search engine

to locate it and then click on the "Rate it" link provided for each listing.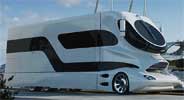 Who wants a $3 million RV? Austrian company Marchi Mobile went all out and built this unbelievable RV that features a 530hp turbo-charged diesel engine, remote access (video, lights etc...), automatic boarding stairs, fluorescent (paint) coating, a rainfall shower, a 40in TV, a pop-out bar, a pop-out roof terrace and lots more. This 39.37 foot (12 meters) long vehicle has an interior space that can expand to 323 sq feet (30 sq meters) when stationary. It's actually a luxury mansion on wheels! And by the way, $3 million is just the starting price.... and that, my friends, is a world record!!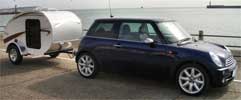 And at the other end of the spectrum........ checkout this "Little Guy" camper trailer! Although teardrop camper trailers have been around more than half a century, most people are still unaware of them. In 2002, "Little Guy" burst onto the teardrop scene and has championed this unique trailer ever since. They have an extensive distribution network and even have dealers spread throughout Canada. Whether camping, traveling, or spending time outdoors hunting, fishing, or just enjoying nature, a teardrop trailer is the ideal size for the everyday man or woman.



BEwARe!! According to the Nature Conservancy of Canada, there is approximately 380,000 black bears and 26,000 grizzly bears in Canada (half of whom are found in BC). So each year, hundreds of Canadians end up face to face with bears while camping. Although bears generally prefer to avoid people and rarely attack humans, there are certain things you should know if you encounter a bear in the wilderness. To find out more, read the following excellent articles by Rex Vogel....

Are You Bear Aware?

and

Bare Facts on Bears

.


Camping in style! A new trend that emerged from Europe is becoming more and more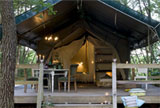 popular in Canada! It's known as "yurt" camping and although it involves sleeping outdoors under a canvas, it does not involve kerosene lamps or beans on a campfire! Hello solar lamps, beds, kitchen-range.... all under a tent! Europeans refer to these as "open air hotels". Depending on how much you're willing to pay, you can get a wood floor, queen size bed, a stove, a refrigerator, hardwood kitchen set, lounge chairs and even a piano. And there are yurt campgrounds that even offer spas, beauty salons, massage tables and "room service". In Canada, yurts are more and more popular out west, especially in the Vancouver area. However, Parks Canada recently added a yurt in the Fundy National Park which rents for $90 a night (

click here

for more information).



And the survey says........ Did you know that close to 85% of campers feel that campground owners charge too much for firewood and that close to 65% of campers think that campground owners should not use coin-operated showers? These are some of the findings of our "

Campground services survey

" with close to 10,000 campers surveyed so far. To find out more,

click here

to complete our survey and see all the survey results.



Are you interested in joining our Canadian camping network on Facebook? We have just recently created our own group ("Camping Canada Campgrounds") on Facebook and by joining, you can start interacting with fellow campers all over Canada. You'll be able to start or join discussion groups, post messages, post events as well as post photos and videos. Simply

click here

or on the logo to join! Once you're in, you'll be able to easily invite your friends and send them messages.
Recently, we've added many new features to our website such as our SiteSearch(below),longitude & latitude co

ordinates for all our campgrounds (for Google maps™ and driving directions), the ability to search for campgrounds for a given region and searchable directories for RV manufacturers, RV dealers and RV rentals. We plan to keep adding new features on a regular basis as we are committed to making our website the best camping website in Canada so please continue to provide your feedback and suggestions.
SITESearch


Campground Owners
If you are a campground owner and you would like to get your campground listed in "Camping-Canada.Com", your options are a "Basic listing" or an "Enhanced listing". "

Click here

" to get more information.